PENDERECKI'S "METAMORPHOSES"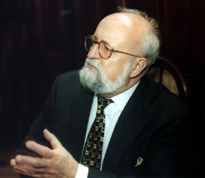 Krzysztof Penderecki

1-3 April, 2004—New York Philharmonic
Violin Concerto No.2, Metamorphosen
Lorin Maazel, Conductor
Julian Rachlin, Violin (Debut)

When Krzysztof Penderecki's Violin Concerto No.2, most commonly known by its original German plural name, Metamorphosen, was first performed in Leipzig in 1995, it represented a kind of culmination in one of many distinct phases in a musical life that has from the beginning been extraordinarily prolific, demonstrated startling virtuosity, taken surprising twists and turns, been widely celebrated, criticized, and honored, and proved to be remarkably durable. As composer, conductor, and teacher all in one, Penderecki has few peers today or even in the history of music.

Born 1933 in Debica, a village east of Cracow, his father a lawyer and enthusiastic violin player, young Krzysztof was given violin and piano lessons from an early age. Admitted to the Cracow Conservatory at 18, he simultaneously studied philosophy, art history, and literature at Jagiellonian University. From 1954 he studied composition at Cracow's State Academy of Music, and in 1959, then a still-unknown 28-year-old assistant professor there, he submitted under different pseudonyms three compositions to the Composers' Union's second annual Warsaw Competition of Young Polish Composers, and won the first, second and third prizes. Other works that followed in rapid succession immediately put Penderecki at the forefront of the avant-garde with a passionate radical humanism expressed through his highly experimental and expressionistic use of sound that threw the academic rules out the window, as in Threnody for the Victims of Hiroshima, 1960, still perhaps his most widely known and frequently performed piece. A second phase followed—one of "consolidation" (as explained, for example, by Wolfram Schwinger)—in which Penderecki integrated the experimental and the traditional, as in his Passion According to St. Luke, 1966, considered by many to be his masterpiece, drawing upon both Gregorian chant and twelve-tone technique. In the mid-seventies Penderecki suddenly gave up his avant-garde interests in favor of the more traditional tonal language of the late 19th and early 20th century, moving toward a contemporary neo-Romanticism, as in his first Violin Concerto (1976-77), until yet a fourth phase was introduced in 1982 with his second Viola Concerto,
in which he re-introduced to his romantic idiom the once-shocking musical effects of his early experimental period, thereafter proceeding to experiment even further. It was in this newly fertile period, two decades after the first Violin Concerto, that he composed between 1992 and 1995 the Metamorphosen, his Violin Concerto No.2, commissioned by the Mitteldeutsche Rundfunk, Leipzig, and dedicated to the First Violinist at its 1995 premiere in Leipzig, Anne-Sophie Mutter. On that occasion the piece, with Penderecki's characteristic symphonic variations upon a single theme, ran 37 minutes. More recent compositions include a Piano Concerto commissioned by and performed at Carnegie Hall in 2002. Mr. Penderecki also established a reputation as a musical dramatist with four highly successful operas between 1969 and 1991—The Devils of Loudon (based on the book by Aldous Huxley), Paradise Lost (from John Milton), The Black Mask (from a play by Gerhardt Hauptmann), and Ubu Roi (from the play by Alfred Jarry). Like other leading composers of our century, Penderecki has also built an international reputation as a conductor, appearing with the leading symphony orchestras of Europe and America, including the New York Philharmonic and the Philadelphia Orchestra, among many others. He also holds permanent posts as principal guest conductor of the NDR Orchestra in Hamburg and music director of the Casals Festival in Puerto Rico. While director of his alma mater, the Cracow Academy of Music, from 1972 to 1979, Penderecki had also managed to teach at Yale University from 1973 to 1978, and has since held teaching posts throughout Europe and the U.S. He has received most of the world's most distinguished awards for composition, as well as a Grammy Award and two Emmies. He has received honorary doctorates, memberships, and professorships from numerous universities and national academies of music, from Stockholm to Buenos Aires, from Beijing to Pittsburgh .

This article was reprinted from the website of the Polish Cultural Institute
http://www.polishculture-nyc.org/index.htm.