Hanna Gronkiewicz-Waltz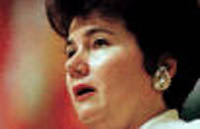 Hanna Gronkiewicz-Waltz

When Poland's then president Lech Walesa nominated Hanna Gronkiewicz-Waltz, a little-known professor of banking law, as President of the National Bank of Poland in 1991, he had to do it twice because parliament, unimpressed, rejected her the first time. The economy was a mess--unemployment exceeded 12% inflation was soaring at 70.3%, GDP had dropped by 7% since 1990, and almost one-third of the country's banks verged on collapse. Parliament and the financial community argued that the dire economic straits called for a person with far more experience.

But as head of the NBP the past seven years, Gronkiewicz-Waltz has proved more than up to the task, helping guide Poland through the tumultuous transition years to a thriving free market economy. Her iron rule has helped impose discipline in the banking sector and win the confidence of foreign investors who have been flooding into Poland since the mid-1990s. In fact, Poles rank Gronkiewicz-Waltz's job performance so highly that she regularly polls among the country's most trusted public figures.

Gronkiewicz-Waltz's no-nonsense approach is one of the factors that has made her so popular--and effective. The day after her appointment as central bank president she dismissed her three deputies--replacing them with her own people--met with a delegation from the World Bank and presided over a meeting at which the future of Bank Handlowo-Kredytowy, based in the town of Katowice with branches in many major cities, was at stake. Gronkiewicz-Waltz eventually decided to let the bank fail--"I find it harder to decide what style of suit to wear than to make a decision on a bank's solvency," she once quipped--just as she has done for more than 120 other banks since.

Reform of the Polish banking sector, in which some 540 of the country's roughly 1,700 banks had solvency problems in 1992, was one of Gronkiewicz-Waltz's priorities. To tackle the problem, she increased the NBP's supervision staff from some 120 to more than 500 and launched a cleanup that tightened regulations and forced dozens of institutions into bankruptcy or mergers with larger partners. The result has been healthy banking and growing confidence among foreign investors.

Gronkiewicz-Waltz then focused on greater independence for the country's central bank, accustomed under the communists to doing the bidding of its political masters. Her tough stance led to repeated clashes with parliament, which for three consecutive years--1994 through 1996--rejected her annual report but lacked the power to remove her. Partly as a result of the bank's newfound independence, 1998 inflation was down to 11.8% and falling. "[Gronkiewicz-Waltz] has been a steady and reliable presence...through changes of government and has always taken a sensible line on both domestic and regional policies," says Basil G. Kavalsky, the World Bank's country director for Poland and the Baltic states.

Not everyone is enamored of her, however. Some criticize her strident anti-inflationary policies for hampering economic growth. Perhaps her most controversial move was an unsuccessful 1995 run for President, a campaign she undertook while continuing to act as head of the central bank. Critics saw a conflict of interest between her duties as head of the central bank and her campaign for the presidency.

Gronkiewicz-Waltz is careful nowadays not to mix banking with politics. For the time being, she says, her priorities are getting Poland into a sound enough economic condition to join the European Union--and perhaps even adopting the E.U.'s single currency, the euro, by 2002. But things could change once her second term expires in 2004. Another run at the presidency, perhaps?

Text from a Time magazine article of Sep. 13, 1999. The information in this database may include copyrighted material, and is to be used for educational and research purposes only.