Stamp issued on the 535th anniversary of the Battle of Grunwald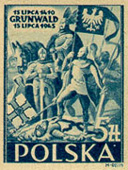 Legend
15 Lipca 1410
Grunwald
15 Lipca 1945
The 5 zl stamp bears the inscription 15 July 1410 / Grunwald / 15 July 1945. It thus marks the 535 anniversary of a famous battle that took place 1410 at Grunwald, a location 15 miles south of Olsztyn. It was one of the largest battles that took place in the Middle Ages, a battle in which the Polish-Lithuanian forces vanquished the force of the Teutonic Order, made up primarily of German knights. The obvious parallel drawn by the stamp was with the then defeat of Germany in the then recently concluded World War II. On the Eastern Front, that defeat was primarily at the hands of the Red Army, yet Polish units, organized in the Soviet Union, participated in achievement of that victory, as did Polish units on the War's other fronts.
Stamps issued on the 550th anniversary of the Battle
Three more Grunwald stamps were issued in 1960, commemorating the 550th anniversary of the battle. The 60 gr stamp bears the coats of arms of the Polish kingdom, the Grand Duchy of Lithuania, Wielkopolska (Great Poland) and Rus (Ruthinia) plus the likeness of the tombstone of Wladyslaw II Jagiello in the Wawel Cathedral in Kraków. Jagiello, the Grand Duke of Lithuania who had become King of Poland through his marriage to Jadwiga, the Polish Queen, was in command of the combined Polish-Lithuanian forces during the battle. The 90 gr stamp portrays part of the Battle of Grunwald monument by Jerzy Bandura and Witold Ceckiewicz which was erected at the site of the battle in 1960. The 2.50 zl stamp bears a reproduction of a famous huge The Battle of Grunwald patriotic painting by Jan Matejko (oil on canvas 34 by 15 ft., 1884) created in Krakow at a time when a large portion of Poland was under German occupation, nay had been incorporated into the German state. The painting is currently housed in the Polish National Museum in Warsaw.
The above images are reproduced from the 1945 and 1960 pages of Ben Nieborg's Stamp Encyclopedia, Poland