Władysław Hasior sculptures: The Firebirds


Firebirds, Kasprowicz Park, Szczecin's
Source of visual: raster.art.pl


Hasior's 1975 Firebirds sculpture was first located on the slopes of Szczecin's Castle. Later development of a limited access highway necssitated its relocation and, after a number of moves, the sculpture is now located in Szczecin's Kasprowicz Park. At the unveiling of the sculpture, Hasior used fire. The undated photograph showing him moving rapidly down a slope from a blazing set of firebirds is likely to be from that occasion. In the years after its relocation to the Kasprowicz Park, the sculpture suffered from neglect,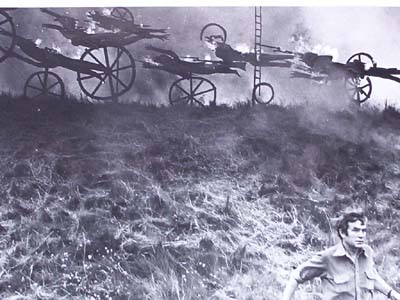 Unveiling of the Firebirds sculpture, Szczecin 1975
Source of visual: Tatras Museum

so much so that admirers of Hasior's work from Wroclaw found pieces of the sculpture lying loose in the mud. Appalled, they took possession of those pieces, transported them to Wroclaw, restored them and placed them on public display[1] The whole thing became a scandal, on one hand the authorities in Szczecin calling the removal a theft, the individuals in Wroclaw agreeing to return the pieces provided there is an undertaking by the Szczecin authorities to safeguard the sculpture from further neglect. The travails of the Firebirds mirror in a wider sense the regard and reputation accorded to Hasior and his art. Though he never became a member of the communist part that governed Poland in the years 1945-89, he accepted the regime's patronage and this was, at one time, held against him and his art. Times have changed and, judged him on his own merits, he is said to enjoy
"a unique position in Polish contemporary art. A sculptor, creator of spatial forms, action artist, scenery designer, and educator, he is considered to have been among the originators of Polish Pop Art. " (Adam Mickiewicz Institute), and
"In Poland, Hasior's works can be seen in museums in Krakow, Warsaw, Lodz, Poznan, Szczecin, Wroclaw, Bydgoszcz, Lublin, Nowy Sacz and Zakopane; abroad, his works are on display in museums in Helsinki, Paris, Stockholm, Oslo, S‹o Paulo, Rome, Milan, Edinburgh, Bochum, Duisburg and Amsterdam. There are a large number of Hasior's works in private collections as well." (Adam Mickiewicz Institute)

Hasior used fire both for its artistic, symbolic values as as an emotional element with many of his sculptures, particularly at such occasions as unveilings. Once he said that with fire he hoped to pierce the heavens, a notion easier to countance in the Polish language where the same word, niebo, refers to both heaven and sky. Another unveiling where he used fire was that of the Iron Organs at Czorsztyn (the sculpture is the subject of a separate webpage). On that occasion, the communist dignitaries present questioned whether the fire was essential, to which Hasior is said to have replied firmly: "Yes!"

Other works than should be mentioned in this context are Golgotha a monument with live fire which he created in 1972 in Montevideo, Uruguay, the Pieta on Fire he created that same year in Copenhagen, and the Chariot of the Sun (solspann) in Sodertalje, a town 30 km south of Stockholm. The latter sculpture is located on a hill overlooking the canal that transects the town. Interestingly, a local custom has arisen where, annually, on a night in August artists and other gather on the hill and illuminate the sculpture with fire.[2]

It is of interest that Hesior had his students analyze the elements of fire by setting hay bales blazing [3]. A 1991 photograph shows him involved in a 1991 happening staged under the title Ecological Alarm. In the photograph he is show equipping a tree with the hands of mannequins, with the tree being subsequently set on fire.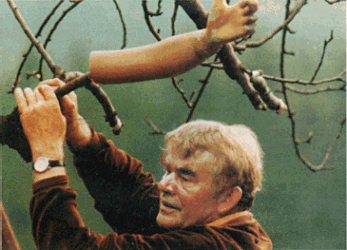 1. Hasior mounting the Ecological Alarm, 1991
2. During the Ecological Alarm Action, 1991
Source of visual: galerie.art.pl
---
Footnotes:
1. raster.art.pl
2. Artnet's 2001 interview with Conny Jonsson
3. Magdalena Gruchowska

Return to main Hasior page
Info-Poland a clearinghouse of information about Poland, Polish Universities, Polish Studies, etc.
© 2000 Polish Academic Information Center, University at Buffalo. All rights reserved.