Władysław Hasior sculptures: The Iron Organs

In the foothills of the Tatra mountains, near Czorsztyn on an exposed hill where, at times, the winds are quite strong, stands a Hasior monument dating from 1966. Erected to the memory of Those Who Lost their Lives in Consolidating the Authority of the People in the Podhale Region, it was commissioned by the then Polish communist regime which had found consolidating its power in the region difficult.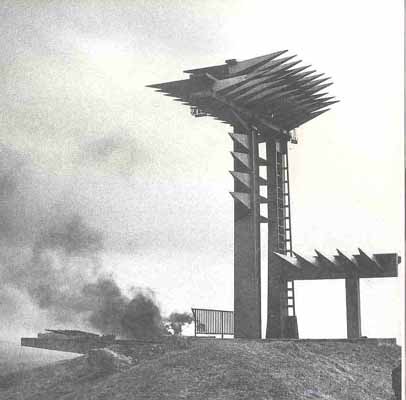 Iron Organs, Czorsztyn


Given the venue, Hasior decided to take advantage of the winds and to so to say, incorporate them in the design of the monument by including its structure a number of flutes on which the howling wind would generate music: hence the monument's colloquial name: The Iron Organs. The idea to use wind in this manner was a truly ingenious idea, yet given what the monument represented, it's not surprising that, whatever its artistic merits, it was not popular with the people of the region. Consequently, the monument has been allowed to deteriorate or worse.

Rust hanging from its structure, the monument has fallen silent, its fate uncertain, but its effect on Hasior's artistic career less so. His acceptance of the commission was to cost him dearly years later. It was cited, for instance, in the 1990 decision to deny him the opportunity to hold a one man retrospective exhibition in the Zacheta Gallery in Warsaw, one of the most prestigious exhibition spaces in the country, a slight he felt keenly.


Return to main Hasior page
Info-Poland a clearinghouse of information about Poland, Polish Universities, Polish Studies, etc.
© 2000 Polish Academic Information Center, University at Buffalo. All rights reserved.