Tannenberg: a Monument of German Pride
by Peter K. Gessner
In the interwar period a monument was erected at Hohenstein then in German East Prussia (now Olsztynek in the Polish voivodship of Warmia and Mazury) to the celebrate the late August 1914 WWI battle in which the German Army surrounded and annihilated the Russian Second Army commanded by General Samsonov. In part the battle took place in the vicinity of the village of Tannenberg, the location where some 500 years earlier the combined Polish-Lithuanian forces had dealt a crushing defeat to the Teutonic Knights, a German Military Order. The 1914 victory became known in Germany as the Second Battle of Tannenberg. On this latter occasion the German victory had been total: of the 150,000 strong Russian Second Army 92,000 had been taken prisoner and another 30,000 were killed or wounded. Only around 10,000 of Samsonov's men had escaped. In the face of the defeat, Samsonov walked off into the woods and committed suicide.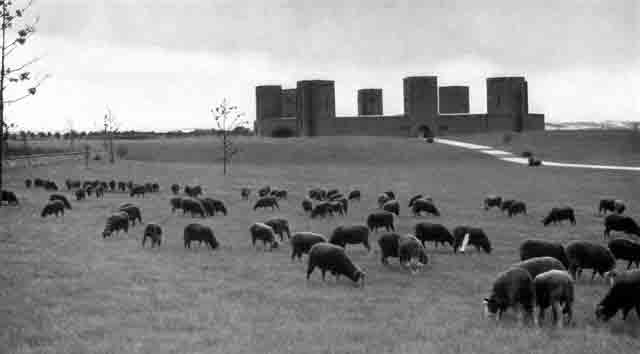 The Tannenberg munument at Hohenstein


The concept of erecting a monument to celebrate the 1914 victory was first advanced in 1919 by the Association of the Veterans of East Prussia. Subsequently, a contest was staged for a design of the monument. It resulted in the submission of over 400 projects and was won by the brothers Walter and Johann Kruger, architects from Berlin.

In 1924, on the 10th anniversary of the battle, Field Marshal Paul von Hindenburg, who had commanded the German troops in the battle, took part in the laying of the monument's foundation stone, a ceremony attended by some 60 thousand people, primarily veterans of WWI. The monument was built in the period 1925-27. Hindenburg, who in 1916 became Chief of Staff of the German Army. He became President of Germany after the war and as such he appointed Adolf Hitler to be its Chancellor in 1933.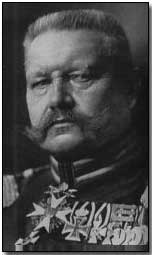 Field Marshal Paul von Hindenburg


Standing on a man-made rise in the ground, the monument, a structure of imposing proportions took the shape of a regular octagon 325 feet across. In the middle of each of the eight sides rose a 75 foot-high tower 30 by 30 feet at its base. Linking the individuals towers were 20 foot-high walls, solid on the outside but on the inside forming an arcade facing the monument's central plaza. The overall appearance of the monument was strongly suggestive of a Teutonic castle, an indication that the Germans viewed the 1914 victory as in some way a reprisal for the defeat suffered 500 years earlier in an encounter with Slav armies. In the middle of the plaza was located the tomb of 20 unknown German soldier who had died during the 1914 battle. Above the tomb rose a wooden cross 40 feet high sheathed in brass. The unavailing of the monument took place on the 18th of September 1927, Hindenburg's 80th birthday.

The monument acquired new and greater importance after Hitler came to power in Germany. The Nazis made it a symbol of the glory of the German Armed Forces. Already in August 1933 the monument was visited by Hitler as the Chancellor of the German Reich. His visit was the occasion for a great patriotic gathering. The greatest ceremony in the history of the monument was, however, the funeral of Field Marshal Hindenburg. Although this had not been either Hindenburg or the monument's planners intention. Hitler had decided that the monument should become a mausoleum for Hindenburg and his wife,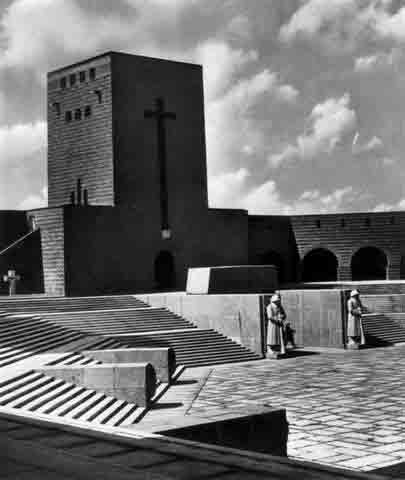 Tower in which rested Hindenburg sarcophagus


To effectuate the change in purpose, Hitler had the grave of the unknown soldiers removed, and the level of plaza lowered by 8 feet with stone steps surrounding it on all sides. A vaulted burial chamber was built in the crypt of one of the towers. The entrance to the crypt were guarded by two 13 foot statues of soldier on guard. Special brass sarcophagi were placed in the burial chamber. Behind the sarcophagi stood two crosses joined at the arms. Inscribed on them were two of the Field Marshal's favorite sayings: "Love is eternal" and "Be faithful till death." On the wall hung a black Prussian eagle. In the tower above the crypt, another chamber housed Hindenburg memorabilia and within it stood a 13 foot-high statue of the Field Marshal in dark green porphyry.

On the 7th of August 1934, the body of the Field Marshal was laid to rest to the sound of church bells and in the presence of high government officials and representatives of foreign nations. Hitler gave the funerary oration ending it with the high flying words "Toter Feldherr, geh' ein in Walhall!" (Supreme leader, enter Walhalla.) The Tannenberg monument itself was elevated to the rank of a "Monument of German Pride", the only such in all of Germany. It became a symbol, a myth, a place of pilgrimage for thousands of Germans. School children were required to visit it and it was the site of the annual reunions of the veterans of WWI.

Then came the Second World War. On January 20th 1945, as the Soviet Armies advanced into East Prussia, the Germans military, fearing profanation by the Russian, evacuated the remains of the Field Marshal and his wife. After a perilous journey these found a lasting resting place, probably in Marbourg Cathedral. A day later, at night, the Germans blew up both the entrance tower and the one that had housed the Hindenburg tomb. The Soviets did not further destroy the monument which stood till 1949 when its building materials began to be utilized in the construction of the Palace of Culture in Warsaw and of the Headquarters building of the Workers (communist) Party there.

Nothing remains of the monument today other than its buried foundations. The area is now an Olsztynek city park.



The above is based, in large part, on information provided in a Polish language webpage posted by Andrzej Waluk
Clicking on the visuals will link to the visual's original location.
This page may include copyrighted material, and is to be used for educational and research purposes only