The Socrealism
"Treatise on morals"
These are some of author's thoughts about the philosophical attitudes prevailing in the post-war world. Milosz opposes the fashionable at that time existentialism as well as cynicism and duplicity. What he proposes instead are values which can save the good in man. These are : "equilibrium of fear", "sane mind" and the criticism towards the official doctrines.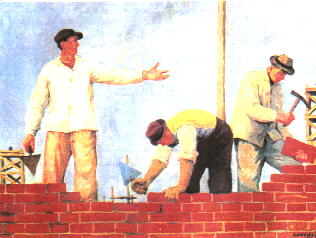 In "The captive mind" Milosz tries to explain the fascination of the Polish intellectuals with communism. This fascination led many Polish writers to abandon truth and to give in to the reality of lies and despotism. He describes a sort of " double-thinking", which meant that many writers would officially join the slogans of the propaganda, while keeping deep down in their hearts their real thoughts and feelings. The book portrays, using pseudonyms the lives of four Polish writers in process of adaptation to the dogmas of "the new faith:" Alfa (Jerzy Andrzejewski), Beta (Tadeusz Borowski), Gamma (Jerzy Putrament) and Delta (Konstanty I. Galczynski).
This page, in its earlier 1997 version (use right mouse to open in new window), was created by Aleksandra Kolodziejczyk, Iwona Kowalska, and Dariusz Plygawko, students of the Fifth General Education Liceum in Bielsko-Biala. Marcin Tomana and Piotr Kowalski of the School's Informatics faculty and Urszula Zajaczek of the Polish Language faculty, acted as advisors. Linguistic editing of current version by Peter K. Gessner.