On November 6, 1860, Ignacy Jan Paderewski is born in Kurylowka, in an area annexed by Russia following the partition of Poland (presently in the Ukraine). He is to become one of the great piano virtuosos of his era, a composer, a tireless political activist campaigning for Poland's independence, a philanthropist and a statesman with international impact.
Schooled by tutors in music and such forbidden subjects as the history of Poland, Ignacy develops early a sense of patriotism and of his mission in life. This, in the disastrous wake of the failed uprising of 1863 when patriots are being deported to Siberia in their thousands and the Polish people feel downtrodden and impoverished.
At the age of nine, that is in 1869, Ignacy muses that, to uplift his nation's spirits, he will erect in 1910, on the 500th anniversary of the Battle of Grunwald where the combined Polish-Lithuanian Armies vanquished the Teutonic Knights in one of the biggest battles of the Middle Ages, a monument celebrating that victory. It's a dream he fulfills 41 years later.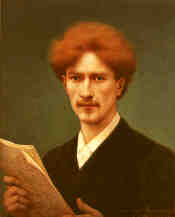 A 1887 portrait of Paderewski by R.P. Schutzenberger
At twelve he enters Warsaw Conservatory of Music. He graduates in 1878 with excellent grades and is immediately hired by the Conservatory to teach piano classes. He befriends a prominent violinist, Wiadyslaw Gorski and his wife Helena and teams up with Gorski for concert tours. Also, he starts to compose for violin and piano.
In January, 1880 Paderewski marries Antonina Korsak, a pianist. Their son, Alfred, is born in October, but tragically Antonina dies ten days later. He composes an Eulogy and generally immerses himself in composition. Two years later, in 1882 he goes to Berlin to study composition. Returning to Warsaw, he gives numerous concerts with Gorski, including some for charitable causes.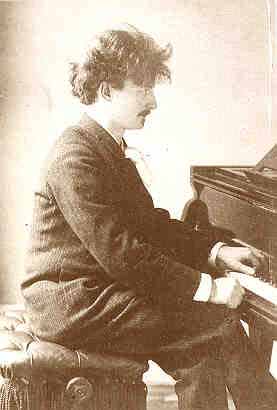 Paderewski at the Royal Albert Hall piano
On and off over the next four years he continues his studies in Berlin; there his friend, Anton Rubinstein, encourages him to devote himself to becoming a piano virtuoso. Acting on this advice he moves to Vienna in 1886. There he becomes a student of the renowned piano teacher Teodor Leszetycki. His rapid progress launches his career. His studies in Vienna are made financially possible by a joint appearance in Krakow with the actress Helena Modrzejewska - the famous stage actress who, when she started appearing on U.S. stages, shortened her name to Mojeska - whom he has met while vacationing in Zakopane. He debuts in Paris in 1888; it's an instant success. The following year, his second tour earns him the sobriquet the "Lion of Paris".
By 1891, his popularity is well established in London, he plays at the Royal Albert Hall and he is sought for royal performances. Queen Victoria remarks that his playing is "divine", His stage presence, fine facial features and a shock of golden-red hair enchant women. Artists love to paint his portrait. Later, Modrzejewska reminisced that Paderewski sitting at a piano gave an impression of a Botticelli or a Fra Angelico angel.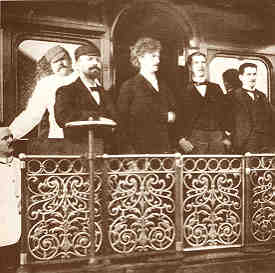 Paderewski on the porch of his railway car
Paderewski's American debut takes place on November 17, 1891, in Carnegie Hall. Within the next 130 days he gives 109 performances in a tour of the United States, including Buffalo N.Y. on January 12th and February 13th, 1892. He achieves phenomenal popularity. Two years later he embarks on a second American concert tour. Together, the two tours generated a net profit of $160,000.
In 1896, while in California during his third U.S. concert tour, he gives a benefit performance in San Jose upon the request of a Stanford University student, Herbert Hoover, who is able to choose the charity to which the proceeds will be donated.. Years later, after World War I, the future President of the United States will direct famine relief to Poland. At the end of the tour, before leaving for Europe he establishes a Paderewski Foundation designed to aid young American composers.

The Riond-Bosson Villa
In May 1899, following her divorce from Gorski, he marries Helena. They take up residence in Switzerland in the beautiful Riond-Bosson villa, near Morges, that Paderewski, by this time a wealthy man leading the life of a celebrated artist, has purchased from Prince Le Maroisa.
In 1902, he undertakes his 5th concert tour of the United States, traveling, like Mojeska, in his own railway car, his being equipped with five pianos. He attends the premiere of his opera Manru at the Metropolitan Opera House. Well received, the opera is also performed in Philadelphia, Boston, Pittsburgh, Chicago and Baltimore.
In 1904, he expands his concert circuit to include Australia and New Zealand. During his 7th tour of the United States (1907-1908) he is invited to the White House to meet with Theodore Roosevelt. During the 8th tour of the United States, his Symphony in B minor, Op.24 premiers in Boston under the baton of M. Fiedler. Two years later, Paderewski makes his first pianola recordings on Welte-Mignon Rolls. These recordings, made before the advent of the phonograph, continue to make it possible even today to reproduce his performance of an appropriately equipped concert grand.

Dedication of the Grunwald Monument - Paderewski at the podium
In 1910, he tours Europe, giving concerts, many to benefit charities. On July 15th in Krakow, he officiates at the ceremonies attendant upon the unavailing of the Grunwald monument he has erected at his own expense as a gift to that city. He reveals himself to be a talented orator in three languages; the event opens the political phase of the artist's life.
Soon he starts combining his concert programs with speeches campaigning for Polish independence and famine relief. The outbreak of World War I in 1914 finds him in residence at his villa in Switzerland. The following year, together with Nobel Prize winner Henryk Sienkiewicz, he organizes, with the approval of the Swiss government, a General Committee for Aid to Polish Victims of the War and becomes its head. He personally lobbies for the formation of analogous committees in France and England.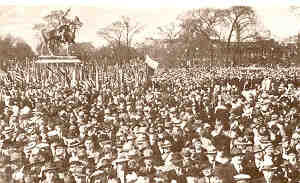 Polish Chicagoans listening to an address by Paderewski
In New York City, on the 22nd of May 1915, during his 10th American concert tour, be issues an appeal to Polish community in the U.S. for aid to the people in Poland. Later that month, addressing a gathering of 15,000 Poles standing in front of Chicago's Kosciuszko Monument and , he bids them donate a day's work for Poland on July 15th, the anniversary of the battle of Grunwald,. In August in San Francisco, he launches a series of some 300 concerts during which, over a period of two years, he gives speeches on behalf of Poland's independence and relief. In the ensuing years he will donate much of his fortune to the Polish Victims Relief Fund.
On February 22, 1916, in presence of President Woodrow Wilson, he gives a recital and a speech at the White House. Subsequently, he is asked by one of President Wilson's advisors for written material about Poland and arguments for its restoration.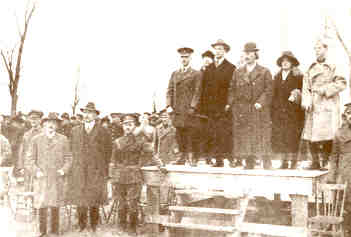 Paderewski on the dais of the Polish Army training Camp at Niagara-on-the-Lake, Ontario
In 1917, at a convention of Polish Falcons in Pittsburgh, Paderewski calls for the formation of Polish Army which will fight alongside Americans in World War I. In Paris, he becomes a member of the newly formed Polish National Committee and is delegated to be its representative in the United States. Soon, the French government despatches a Polish-French mission to America to recruit volunteers to the Polish Army from among the two and a half million Polish immigrants in the United States.
Because the United States continues to be neutral, the training camp for Polish Army volunteers is established British Dominion of Canada, at Niagara-on-the-Lake, Ontario. Buffalo, NY, the nearest American city serves as a transit point for the volunteers. Paderewski visits the camp and addresses the troops. Later, after the U.S. declares war against the Central Powers (i.e.: Germany and Austria), a Polish Army training camp is also established on U.S. soil at Fort Niagara, located across the river from Niagara-on-the-Lake. Transhipped to France, units of the Polish Army see action of the Western Front.

February 10, 1919: Head of State, Marshal Pilsudski and Prime Minister Paderewski on the way to the opening of the newly elected Polish Parliament
In January 1918, President Wilson announces his 14 points. One of these calls for the reestablishment of a sovereign Poland. In April, the United States enters the conflict, and the dispatch of an American Expeditionary Force to France follows. The Central Powers are defeated and in November an armistice is signed ending the conflict on April.
In December, Paderewski journeys to Poland, stopping first in Poznan where he receives a hero's welcome. Upon his arrival in Warsaw, Marshal Pilsudski, the newly resurgent Poland's chief of state, asks him to accept the twin positions of Poland's Prime Minister and Foreign Minister. In the latter capacity, he is to represent Poland, together with Dmowski (the head of the Polish National Committee), at the Peace Conference in Paris. Both he and Dmowski become co-signatories of the Peace Treaty at Versailles on behalf of Poland.

Portrait of Paderewski playing a minuet. Oil by Ch. E. Chambers, 1920
In 1920, with Poland reinstated as a sovereign country and so recognized internationally, Paderewski's mission is accomplished. He resigns the Premiership to resume his virtuoso career.
On his 13th concert tour of the United States in 1923, his performance at Carnegie Hall is enthusiastically received by the audience and critics alike, his magic is undiminished. Many honors are bestowed upon him during his worldwide tours: honorary degrees, medals, knighthoods - including one from King George V of England. He donates the proceeds from many of his concerts to charitable causes: the victims of World War I, the American Legion, the unemployed in U.S., musicians, etc.
Towards the end of his life, World War II erupts. In September 1939, Poland is once more invaded and partitioned. Paderewski journeys to the League of Nations in Geneva to ask for help for Poland. He becomes the head of the National Council in exile. He sails for America. upon invitation of President Roosevelt. In 1941, during Paderewski week, money is raised for the Paderewski Relief Fund during Paderewski Week. Eleanor Roosevelt visits him at his residence in Florida.
Paderewski dies in New York City on June 29,1941. He lies in state in St. Patrick's cathedral, whence his body is conveyed on a gun carriage pulled by eight horses to Pennsylvania Station, and then by special train to Washington, D.C. where, by an act of Congress, he is buried in Arlington National Cemetery. By his own stipulation, his remains are not to be transferred to Poland until the country is free and independent. Fifty one years pass before that can occur. On July 5, 1992, his remains are re-interred in the crypt of Warsaw's St. John's cathedral. American President George Bush and President Lech Walesa of Poland participate in the ceremony.
Funeral cortege conveying Paderewski's remains to the Pennsylvania Station in New York City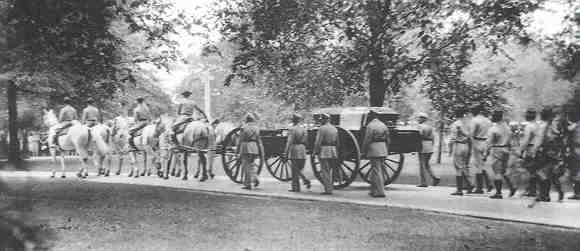 Paderewski funeral cortege in Arlington National Cemetery
The information in this database may include copyrighted material, and is to be used for educational and research purposes only.