"The Greatest Soldier in American History." is how President Jimmy Carter, described Lt. Col. Matt Urban on July 19, 1980, while presenting him with the Congressional Medal of Honor for his heroic actions during World War II. It had taken 35 years for this recognition of his venerated feats in World War II. It came after officials discovered they mistakenly had overlooked awarding the medal to Urban. Though his exploits on WWII battlefields earned him a greater number of citations than those of the legendary Audie Murphy, the award nomination his battalion commander wrote for him prior to being killed in action, never reached the headquarters of the 9th Infantry Division in Europe. When a review of Urban's records in 1978 revealed a copy of the proposed letter, President Jimmy Carter resolved to correct the administrative error and awarded Col. Urban the medal.
Lt. Col. Matt Urban was born on August 25, 1919, in Buffalo of Polish immigrants. He was raised at 1153 Broadway and attended Buffalo Public School #57. He entered the US Army in 1941, saw a much conflict during World War II and became the most decorated American war hero, earning virtual every combat medal including the Congressional Medal of Honor.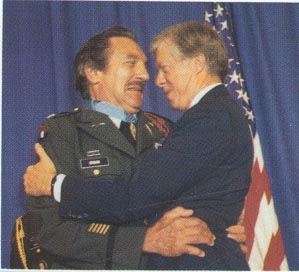 Lt. Col. Matt Urban with President Jimmy Carter
A 1941 graduate of Cornell University, within a week of graduation he was at Ft. Bragg, N.C. and later on the beaches of North Africa. From there he and the 60th Infantry Regiment, 9th Infantry Division moved to Sicily, France, Belgium and Germany. Typical of Urban's service were actions on D-Day, where he landed with his men on Omaha beach. he suffered a broken leg in a landing mishap, but with his men trapped on the beach, Urban got up on top of a tank and led them in an attack on German positions and off the beach. In many subsequent encounters, Urban's battlefield leadership skill and his uncanny ability to frustrate German plans caused the enemy to give him the nickname "the Gray Ghost." Lt. Col. Urban was wounded six times and six times he went back to the front lines. The seventh time he was wounded, he was shot in the throat and the bullet tore out a vocal cord. Army doctors gave Urban no hope for survival. But he recovered two years later with damaged vocal cords which left him raspy-voiced to the end of his days.
After the war, he moved to Michigan where he served as recreation director for Port Huron for seven years, then director of the Monroe Community Center for 16 years. His last job was director of the civic and recreation department of Holland, Michigan. He retired in 1989. His death on March 20, 1995 was a result of complications from a collapsed lung brought on by one of his seven war wounds.
Lt. Col. Urban received a total of 29 awards and decorations, including the Silver Star (1 OLC), Bronze Star (2 OLC) with "V" Device, Purple Heart (6 OLC), and NYS Conspicuous Cross with 4 Silver and 1 Gold Clusters. Lt. Col. Urban was laid to rest in Arlington National Cemetery in March 1995.