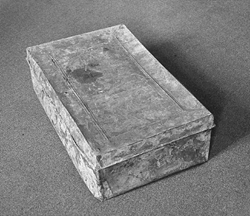 August. 3, 1942. The first of ten metal boxes (50x30x15cm), containing official documents, personal memoirs, letters, photographs, drawings, etc., assembled in the by Emanuel Ringelblum, his colleagues and amateur informants are buried under a house on Nowolipki Street.

Ringelblum, who in June 1942 wrote: "I don't know who of the group will survive, whom fate will pick to edit the collected materials," was shot by the Germans in March 1944 in the Pawiak prison with his wife, Julita, and his son, Uri.

After the war, on September 18, 1946, Ringelblum's deputy and the sole survivor of Ringelblum's Oneg Shabat (Joy of the Sabbath) group, Hersz Wasser, helped find the boxes under the ruins of the house on Nowolipki Street. A second hoard of documents, buried in milk cans, were found in 1950. A third hoard of documents, hidden near Swietojarska Street on the eve of the Ghetto Uprising, has probably been lost for ever.

The archives are a primary source for all research on the history of the Warsaw Ghetto and the Holocaust, and form the core of the collection of the Jewish Historical Institute at 3/5 Tlomackie St. in Warsaw, the same building which once housed the Main Judaic Library where Ringleblum's group used meet cladestinely.