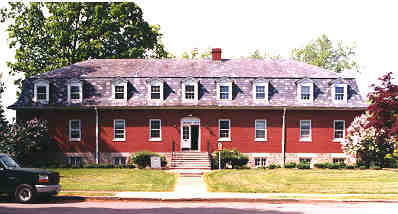 The Officers Club
The historic Officers Club, the subject of this exhibit, dates from the time when the building was part of the U.S. Army Fort Niagara Base. Located on the bank of the Niagara River proximal to where that river flows in Lake Ontario, it commands attention both as a future New York State Museum and a building that houses four historic murals. The museum's mission will be to preserve and interpret the 1871 - 1963 period in the history of Fort Niagara, with emphasis on the years of World War One and World War Two.

From a Polish-American perspective what is remarkable about that history is that North American volunteer recruits of a Polish Army trained here during WWI prior to being transported to fight first in France, later in Poland, so at to bring liberty to the lands of their ancestors. Also, from that same perspective, it is noteworthy that one of the four large historical murals that grace its walls was painted by a significant Polish-American painter and cultural leader, Eugene Dyczkowski.
The Officers Club stands some 500 yards from the historic Old Fort Niagara. Built by the French in 1725, Old Fort Niagara, a National Historic Landmark and New York State Historic Site, is a tourist attraction operated by the Old Fort Niagara Association. The State has also entrusted the Association with the development of the Officers Club Museum and its operation. The map below gives the location of the Officers Club in Fort Niagara State Park. Parking is available in front of the building. Currently, while planning for the museum is ongoing, each year in July and August the building is opened on Sundays between 1:00 and 4:00 p.m. making it possible for visitors to view the murals, as well as temporary exhibits and interpretative materials.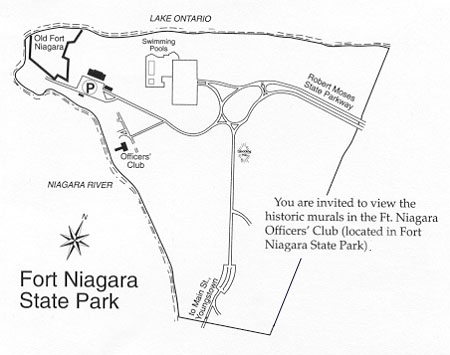 Some time will necessarily elapse before the Officers Club becomes a state-of-the-art museum. In the interim, these pages present information about the Officers Club, its murals and the artists who created them, the history of the military post it served, the historic themes the Museum will interpret, the events that culminated in the decision that it is to be a museum, and the campaign to raise the funds needed to make this happen.
The U.S. Army Base at Fort Niagara was demilitarized in 1963. The 500 acre property was ceded back to the State of New York which transformed it into a State Park. In the process, most of the 100 plus buildings on the base were torn down. Thereafter, and until 1996, the Officers Club stood shuttered and empty.
Following a decision by the State that the building would be leased for "adaptive reuse," a number of community groups, including the Polish Arts Club of Buffalo, became aware that the building contained historic murals. A major public information campaign was mounted aimed at the preservation of the building. It culminated in 1999 in a decision by the State that the building would become a museum