A Polish Academic Information Center Exhibit
The City of Poznań - The legendary cradle of Poland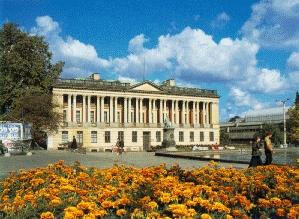 The Raczyński Library
Housed in a magnificent neoclassical building the Library dominates Plac Wolności (Liberty Square). The latter, Poznań's largest square, was set out at the turn of the 18th century and bore the name Wilhelm Square, though during the days of the Duchy of Warsaw (1807-1813) it was renamed Napoleon Square. It acquired its present name in 1919.

The Library was founded in 1829 by Count Edward Raczyński, it was the first public library in Poland. Raczyński, who donated to it his family library collection, took a very personal interest in the library, taking care of all details related to its coming into being. When it opened its collection numbered 13,000 books. In 1945, during the Battle of Poznań, the Library and its collection of 186 thousand volumes was burnt. Only manuscipts and old prints which had been evacuated to the Raczynski estate in Obrzyck survived. Rebuilt, and now housing a collection of 1.6 million volumes, the Library is expanding into a new addition being built at the back of the original structure.

In front of the library stand the Well of Hygeia, the Greek Goddess of health. The mid 19th century sculpture was funded by Edward Raczyński to commemorate the installation of the city's water supply system. The visage of the goddess resembles that of Count Raczyński's wife, Constance.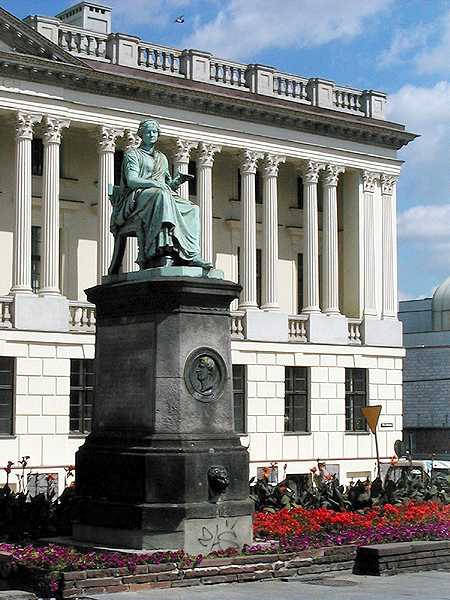 The Well of Hygeia
Links
Size
Comments
History of the Raczynski Library and the Cartographic Collection
1,950 words
Page concerned primarily with the atlases and maps in the collection
Biblioteka Raczyńskich w Poznaniu
89 webpages
Libraries's own website - On-line catalog; About the library - structure, history, publications, friends of the library; current events; ...

| | |
| --- | --- |
| Note: Each visual on this page is linked to the original Polish website posting it. This information may include copyrighted material and is to be used for educational and research purposes only. | |