A Polish Academic Information Center Exhibit
The City of Poznań - The legendary cradle of Poland
The National Museum
The museum, a neo-Renaissance building dating back to 1900-1904, is one of the buildings facing Plac Wolności (Liberty Square). It is one of the leading art museums in Poland.

Its collections include ancient and mediaeval art, Polish painting of the 18th and 19th centuries, including a rich collection of canvases by Aleksander Gierymski (1850 - 1901) Jacek Malczewski (1854 - 1929), and Piotr Michalowski (1800-1855), contemporary Polish art, and those of the Venetian, Dutch, Flemish and Spanish schools

One of the more famous canvases in the museums's collection is Malczewski's Melancholia. It was painted between 1890 and 1894, that is almost a century after Poland had lost its sovereignty and been partitioned between Prussia, Russia and Austria. It was a century marked by the uprisings of 1795, 1831, 1848, and 1863, each undertaken in the vein effort to regain the country's sovereignty. The following, in English translation, is how the painting is described on a Polish webpage created by Adam Beim

It is a painting of a totally fantastic vision, yet concrete and precise in its expression of that vision. Singular in the division of its coloristic areas, expressive in its use of perspective, its symbolism underscored by the linear axises and spatial vectors in the artistic composition's tensions. The interior of the painter atelier forms the scene on which is played out the drama of history, fate and artistic creativity. The subject of Malczewski's synthesis is the whole century of liberty lost. A period of ineffectual struggles for liberty, renewed over several generations, is encompassed in a parabola of human life from childhood, through maturity unto death. The tumultuous action arises on the left from the canvas on the easel in the depth of the atelier, thins out in the center, quiets down under on the right the partially open window, only to once again spiral back in a somnambulistic whirl.

There, on the far right edge of the composition, is shown a female figure darkly cloaked. The only person outside the atelier, leaning on the window's outside sill, she stands between the luminous surroundings of the garden - symbolic of the dreamt of goal and freedom - the crowd whirling towards the partially open window and the artist lost in a daydream by the just commenced painting.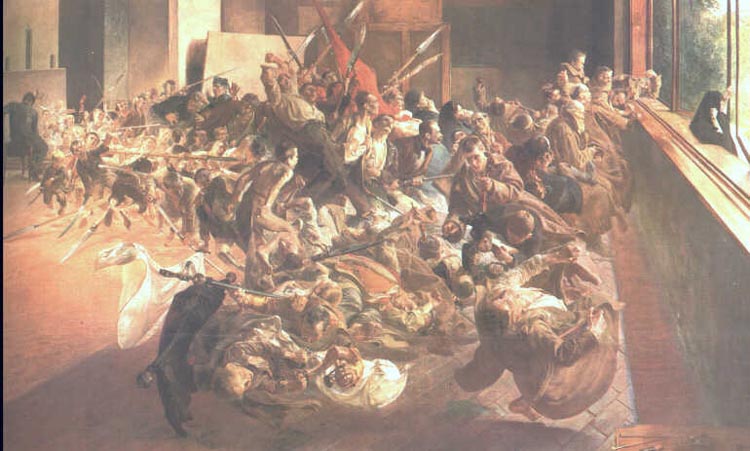 Melancholia by Jacek Malczewski, 55x95" oil on canvas, Poznań's National Museum

see enlarged sections of painting below
| | |
| --- | --- |
| Note: Each visual on this page is linked to the original Polish website posting it. This information may include copyrighted material and is to be used for educational and research purposes only. | |