The Story of Panna Maria, TX. Part II
150 Years of Continuance and Dispersal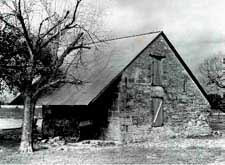 The John Gawlik house in Panna Maria, built in 1858 - click to enlarge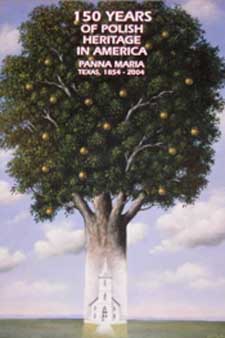 Poster by Rafal Olbinski commemorating Panna Maria's Sesquicentennial
click to enlarge

Panna Maria has become an important historical landmark for Polish-Americans and for Texas [1] but also virtually a ghost town [2] as the resident population has dwindled over the years. An early factor contributing to a population exodus was the fact that the railway, built in 1886-87 on the right bank of the San Antonio River, bypassed Panna Maria located on the other side of the river. Soon settlements arose along the path of the rail line. One of these was Karnes City which became the County Seat.[3] Another was Falls City to which a number of people from Panna Maria moved so that could receive the benefits of a railroad. As a result Falls City became a predominantly Polish-American settlement.[4]

An other 40 families moved in 1873 some five miles north to start a new community Cestohowa[16]. Initially they attend services at Panna Maria's Immaculate Conception Church, but after it was struck by lightning in 1875, the residents of Cestohowa built their own church in 1877-78.[17]. Ten years later another group of 10 families moved still further north to start the community of Kosciusco, ten years later[18]. None the less, the 1880 Federal census for the Polish areas of Karnes County, specifically Panna Maria and the sister settlements listed 801 names of which only 13 were not Polish [20].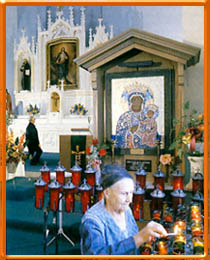 Mosaic of the Virgin of Czestochowa in Panna Maria's church

By 1909, Panna Maria's population decreased from a reported 120 families in 1858 to eighty families.[5] In part this can be attributed to the nationwide trend for the gradual depopulation of rural areas, but also in part to this part of Texas being difficult to farm and a significant amount of the land being placed into ranching.

As the mother colony for the Poles in America, Panna Maria has occasionally attracted visitors numbering in the thousands to its celebrations, most notably in 1966 during the millennium of Polish Christianity and nationhood, when 10,000 people convened there for a Mass and barbeque; President Lyndon B. Johnson'sqv gift on the occasion was Polish artist Jan E. Krantz's 12,000-piece mosaic of the Virgin of Czestochowa, which was put on permanent display in the church.[5, 14]

In the 1950s, uranium deposits were discovered at a location some 10 miles west of Falls City, and later also between Falls City and Panna Maria.. Here Chevron opened a large stip mine and mill in 1977. The uranium mill, just three miles from Panna Maria, with a milling capacity of 3000 short tons of uranium ore per day, become one of the three or four largest in the nation.[6]. After the Panna Maria uranium mine reserves were exhausted in 1985, the mill was revamped to process ore from other mines.. In 1991, the mine and mill became property of the Rio Grande Resources Corporation. In1992. the mill was demolished. [7]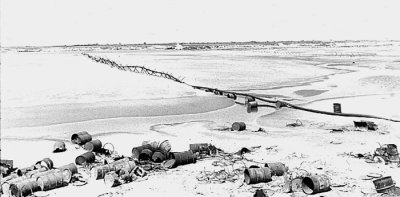 Chevron's 160-Acre Uranium Mill Tailings Pond
Contents: Six Million Tons of Radioactive Waste and Chemical Solvents

Looking north from Panna Maria there are symmetrical hills on the horizon. These are manmade-built of soil displaced during mining operations, shaped and seeded with grass for livestock grazing.[8] Left behind are several Chevron's 160-Acre Uranium Mill tailings locations and tailing pons which can be seen on topographic maps of the area [9]. The uranium mining and subsequent leachate and hazardous waste disposal in the Panna Maria area have caused soil and groundwater pollution. [10]

Father Frank Kurzaj, Pastor of Panna Maria's Immaculate Conception Church, a priest who came to Panna Maria in 1986 from Silesia, now an industrial and heavily polluted area of Poland, became alarmed about reports of cancer among congregants that he'd buried and the possible connection with the local uranium mining and milling operations and the radioactive waste disposal areas. He helped organize a volunteer group of Panna Maria Concerned Citizens to speak for the community in hearings etc.[11] In his own words: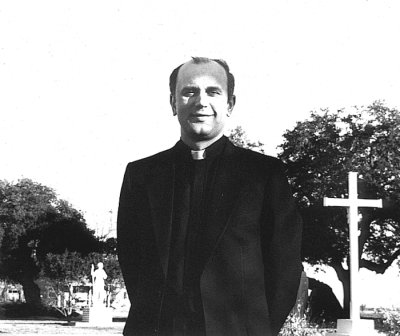 Father Frank Kurzaj, Pastor of Panna Maria's Immaculate Conception Church
"My concern and awareness deepened when I heard complaints from my parishioners regarding their well water quality. I was shown letters written by the Texas Department of Health stating that their water was unsafe for drinking due to chemical, heavy metal, and radioactive contamination. My parishioners also mentioned the occurrence of birth defects in the calves born to their cattle. At the same time, I was observing that the people who lived in close proximity to the tailings pond were experiencing miscarriages, dying of cancer, and having children with birth defects, some of whom died."[12]
Efforts are ongoing to limit the degree of pollution: ground waters are monitored and the site continues to be restored. Tailings and wastes sites have been closed and covered to prevent further contamination of the subsurface aquifers or radioactive waste emissions.[13] Meanwhile, the population of Panna Maria has dwindled; it was 99 or 96 [5] in 1990; in 2000 it was down to 41.[15]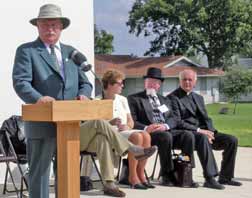 Lech Walesa addressing the citizens of Panna Maria outside Immaculate Conception Church.

Today, the older generation still speaks an antiquated Silesian dialect (difficult for modern Polish speakers to understand), but Polish is no longer taught in local schools, and the language is being lost.[14] None the less Panna Maria remains a powerful symbol of the Polish people's contributions to the building of America, a symbol that is celebrated with special occasions, visits by dignitaries, and men and women of state. One such recent visit was by Lech Walesa, former president of Poland, Nobel Peace Prize laurate and founder of the Solidarity movement that toppled Communism in Poland.[19]

Accompanied by the Ambassador of Poland to the United States, Przemyslaw Grudzinski, Walesa came to Panna Maria on October 24, 2004 to participate in the year long festivities marking the 150th anniversary of the founding of the community. Standing on ground where Polish emigrants struggled to make America their home a century and a half ago, Walesa, who in the days when he led Solidarity in its effort to free Poland of communism always wore a sizable representation of the Our Lady of Czestochowa on his lapel, reminded listners that the struggles of early Polish settlers in Texas and Polandís struggle for freedom both occurred "under the banner of Our Lady." Towards the end of the a poster by prominent Polish-American artist, Rafal Olbinski was then displayed, commemorating Panna Mariaís Sesquicentennial and featuring their little church at the base of a fruitful tree.


| | |
| --- | --- |
| Blessed Virgin Mary Church, Cestohowa, TX | St. Ann's Church, Kosciuszko, TX |

Return to the main Panna Maria page

Return to info-poland's home page
---
Sources: the above material was assembled by Peter K. Gessner from postings on the Internet.

1. Back Roads to the Beaches of Texas Itinerary
2. A Polish Ghost Town in Texas
3. Karnes City, Texas
4. Falls City, Texas
5. Panna Maria, Texas
6. Uranium Industry Annual 1994, July 1995; Table 17
7. Rio Grande Resources Corporation
8. Texas Independence Trails
9. Topozone topographic map
10. Rio Grande Valley
11. Father Frank Kurzaj
12. Father Frank Kurzaj, Pastor
13. Texas Environmental Profiles - Mining Activities
14. Panna Maria
15. 78144 Panna Maria Texas TX 16. Cestohowa, Texas
17. Cestohowa, Texas
18. Kosciusco, Texas
19. Nobel Peace Prize winner predicts ...
20. 1880 Karnes County TX Census (Polish areas)